Congratulations!
You have found SKiN GRAFT Records.

ENTER WEBSITE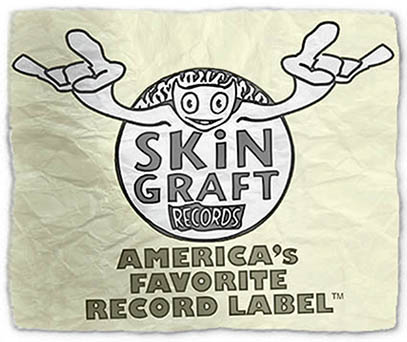 all content © 2017 respective creators and / or SKiN GRAFT Records and Comix Inc.

---


The SKiN GRAFT Records ALL-STARS:

AIDS WOLF, ARAB ON RADAR, ATHLETIC AUTOMATON, AWVSAA, BIG'N, BRISE-GLACE, CELLULAR CHAOS, CHEER-ACCIDENT, CHILD ABUSE, THE CHINESE STARS, COLOSSAMITE, DAZZLING KILLMEN, DENISON KIMBALL TRIO, FLOSSIE AND THE UNICORNS, THE FLYING LUTTENBACHERS, FRUITCAKE, GAY BEAST, GORGE TRIO, HOLY SMOKES, KOENJIHYAKKEI, KOREKYOJINN, LAKE OF DRACULA, LOVELY LITTLE GIRLS, MADE IN MEXICO, MAMA TICK, MELT-BANANA, MOUNT SHASTA, PRE, POINT LINE PLANE, QUINTRON, Q ELECTRONICS, RUINS, RUINS ALONE, SAX RUINS, SATANIZED, SHAKUHACHI SURPRISE, SHORTY, SPACE STREAKINGS, STRANGULATED BEATOFFS, UFO OR DIE, U.S. MAPLE, YONA-KIT, YOU FANTASTIC!, XADDAX, YOWIE, ZEEK SHECK and ZENI GEVA.