"Live Dates"
catalog number: SIN#03 / 7" Bootleg & Calendar
Seizure Set: $8.75
Bundle with SIN02-7: $12.74 (see below)
Four song EP (all exclusive to this release) - Comes packaged in a 7" x 7" eight-page calendar sleeve with topless pictures of both bands in full-color. This bootleg has been seized for legal sale worldwode. Mailorder copies also include a double sided PRE / AIDS Wolf poster and seizure sticker...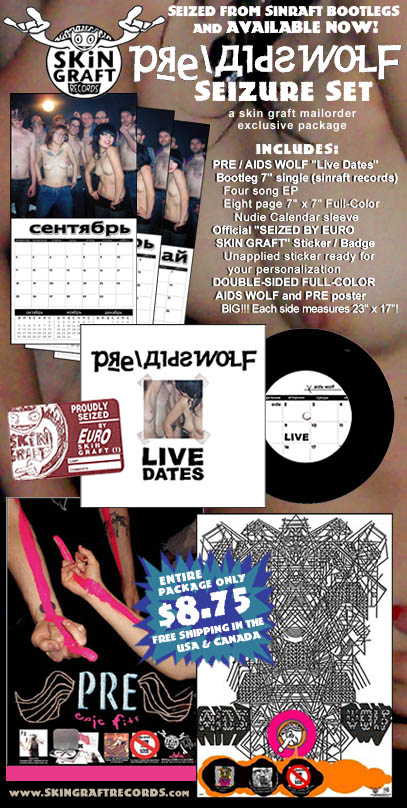 - also available in a bundle with: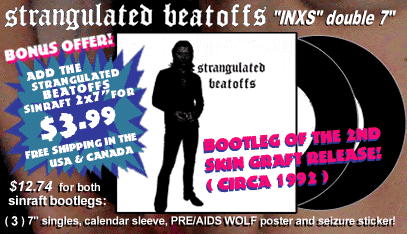 Uncovered at Austrian customs, the PRE / AIDS WOLF bootleg 7" single has been seized by Skin Graft Records for lawful distribution worldwide. Originating in Russia by the rogue record label SINRAFT Records, this vinyl record includes unauthorized live recordings of Montreal's AIDS WOLF and London's PRE, packaged in a full color 8 page calendar of compromising band photos.

Following is the original solicitation from SINRAFT records:

HERE IS THIRD RELEASE OF ILLICIT RECORDINGS OF SINRAFT RECORDS. LIVE RECORDED ON LONDON FROM KOSTYA DROBIK. INCREDIBLE AROUSE GUARANTEES. DOUBLE SUPER LIVE RECORDINGS OF NO WAVE ROCK!!! BOTH GROUPS IN SKIN GRAFT RECORDS.

AIDS WOLF IS CRAZY BAND OF MONTREAL ON CANADA!!! (HEARING LIKE "ARAB IN RADAR"!) PRE IS MAD BAND OF LONDON ON THE GREAT BRITAIN!!! (HEARING LIKE "MELT-BANANA"!) TOGETHER IS TWICE INTENSITY!!!! BONUS IS IMPROBABLE RECORD SLEEVE CALENDAR OF PRE AND AIDS WOLF GIRLS AND BOYS NO SHIRTS IN FULL COLOURS!!!! IS SUPER SEXY 2!!!
SONGS:
AIDS WOLF LIVE!!!
PRE LIVE!!!!
FUN FACT(S): The credited name for the bootleg recordings is Kostya Drobik. In Russian, Kostya is a short form of the name Konstantin.

For more on the STRANGULATED BEATOFFS
sinraft bootleg, go HERE

Also see: AIDS WOLF VS ATHLETIC AUTOMATON
Read more about AIDS WOLF and PRE at their respective BAND pages