RUINS ALONE
With the departure of fourth bassist Sasaki Hisashi, Yoshida Tatsuya is carrying on as RUINS alone. A one-man performance that has to be seen to be believed. Yoshida performs the music of RUINS, KOENJIHYAKKEI and other music he has composed throughout his career.

RUINS HISTORY
Formed by drummer / vocalist Yoshida Tatsuya in 1985, RUINS played two rehearsals as a drum and bass duo before attempting to add a guitarist to fill out their sound. After a handful of rehearsals as a trio, the band abandoned the guitar and chose to jettison forward as a two piece. For nearly 20 years, Yoshida would remain the guiding force behind the band, while RUINS' bass duties would change hands four times.

Ruins produce a unique fusion of punk and progressive rock. Yoshida has stated that while he admires punk's energy, he has no desire to play pure punk, and in fact grew up on a steady diet of prog bands such as Genesis, ELP, and Gentle Giant. However, his true inspiration came from France's Magma. Magma's trademark odd-metered motives, faux operatic signing, and especially Christian Vander's extroverted drumming have certainly made their way into Yoshida's consciousness,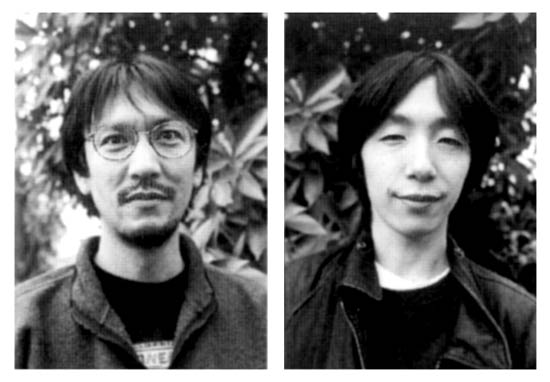 although the jazzy undertones and relatively atmospheric group sound did not. From an early point, Ruins appealed to the avant-garde and punk listener more than the more traditional 'progger'. On their first recordings, they teamed up with NYC experimental sax-icon John Zorn, and would later put out albums on his Tzadik label. The Ruins sound is dense mix of hardcore punk, prog theatrics, and free-improv. Some critics have used the term 'jazzcore', but that seems inadequate. There really is no describing the duo's sound.

Yoshida performs with a vast number of other projects. Akaten, who appear on the Camp Skin Graft cd, are also a duo. Formed in 1995 with Tsuyama Atsushi (of Omoide Hatoba) in 1995, they're a humorous unit, who bring their interests to life, by using cameras, scissors, zippers,etc as percussion or simulating a wide range of bird calls in their bombastic style. Yoshida's Koenjihyakkei is more of a traditional prog band, with added guitar, keys, and a female singer. Yoshida calls the band a 'Japanese Magma.' High Rise and Mainliner not only share the hard psyche-prog style, but the same members! Korekyojin is a collaboration with Bondage Fruit guitarist Kido Natsuki and Ground Zero/Altered States bassist Nansuno Mitsuro. Other projects include Tairikuotoko Vs Sanmyakuonna, Seikazoku, Musica Transonic, Sunkich, and Zubi Zuva. And then there are his solo performances - true one-man shows, wherein he drums, sings, plays keyboard, and guitar simultaneously. A non-digital, purely-physical performance, full of improvisational spirit that defies common sense.

Ruins have toured around the world numerous times, most noteably as part of the Japanese New Music Festival, a tour of Tatsuya's own invention, where he has managed to create a spell binding lineup of five bands out of just three performers! As for Ruins, Yoshida has stuck with his bass-n-drums formula throughout the group's history, exceptions include the one-off Symphonica (with Kenso's keyboardist and two singers), collaborations with Ron Anderson and the bonus live tracks on SkiN GRAFT's "Refusal Fossil" - which feature a variety of guests. The only a two man unit, Yoshida has switched bassists when needed. The bass in Ruins performs double duty, covering every end of the sonic spectrum, melody, bottom, white noise and athletics. "Refusal Fossil" is the first release to feature six-string bassist Hisashi Sisaki. For this release, the band has recorded some of the rawest, most extreme Ruins songs ever written, all unreleased and some dating as far back as 1988. The live tracks on the CD feature Ruins' previous bassist, Ryuichi Masuda. As if all of this weren't enough, Yoshida also manages his own label, Magaibutsu Limited, the definitive outlet for his many projects. See the links page for more info.
For the "1986-1992" release, RUINS poured over all of the bands early material (much of which had been unavailable for years) and extensively remastered the material for re-release. The album includes their first 7", their cut from the NG II compilation, tracks from the first 12" EP, their debut LP, plus remastered best of tracks from the Stonhenge and Burning Stone LP's.

Recently, have unveiled "Gwodhunqa" for a split 7" and comic set with the band HIGH ON FIRE and issuing a radically re-worked edition of the CD's "Vrresto", Pallaschtom" and "Refusal Fossil" .
With the departure of fourth bassist Sasaki Hisashi, Yoshida Tatsuya is carrying on as RUINS alone. A one-man performance that has to be seen to be believed. Yoshida performs the music of RUINS, KOENJIHYAKKEI and other music he has composed throughout his career.

---
RUINS "Bassist Wanted Tour" (2005)
RUINS' bass duties have changed hands four times since the bands formation, and the bands most recent bassist, Sasaki Hisashi, has regretfully left the band, returning to his hometown for personal reasons. As each bass player left, the bar has been raised higher, and now Yoshida Tatsuya finds himself in search of the next Ruins bassist.
On the RUINS Summer 2005 "Bassist Wanted Tour", Yoshida takes on the unbelievable task of performing the music of RUINS solo, as well as performing with a different guest in each city.
RUINS Bassist Hall Of Fame:
Kawamoto Hideki '85-'87
Kimoto Kazuyoshi '87-'90
Masuda Ryuichi '91-'94
Sasaki Hisashi '95-'04
In the Fall of 2005, Skin Graft will roll out RUINS "Pallaschtom" CD to it's first domestic release in a remixed, remastered edition. The Fall of 2005 will also see the first ever USA release from Tatusya Yoshida's renowned band "Hundred Sights Of Koenji (aka KoenjiHyakkei).

History composed by Dominique Leone
ALSO SEE: KOENJIHYAKKEI