Pat Samson: drums
Mark Shippy: guitar
Todd Rittmann: guitar
Al Johnson: singer

---
Friends.

Please understand, a U.S. Maple recording is a reference, a blueprint to a story told a bit differently night after night. What you hear is not always what you get. These albums don't spoil. U.S. Maple (the living, breathing) always exude a fresh on date, changing as necessary without abandoning the prominent features.

Never before has a band popped, melted.. exploded so miserably.

U.S. Maple are the pioneers of the new school, controlling time and space without falling hack to today's trendier form: improvising. Make no mistake, U.S. Maple are about songs and not the sum of parts. This is rocknroll re-aped, engaging on all levels, placing emphasis where the emphasis belongs: entertainment. A dramatic mess of pleasantries, U.S. Maple not only captivate, but keep interest - able to change, resolve or knot up their act from the live studio on Chicago's Q101 Hit radio to the Cave theater in Bergen, Norway.

Friends.

Here is Viet Nam for your long long long hair.
---
U.S. Maple, live at the Metro (January 21, 1995)
Along with sets by Duotron, Brise-Glace and Mount Shasta -
The show by which all others will be measured in 1995.

- Bruce Adams / from his Your Flesh Top Ten list
---
"The underground rock scene's sloppy dependence on dissonance, fractured rhythms, and quasi atonality has by and large rendered these elements ineffective. But within this sad state of affairs arrives U.S. Maple's stunning debut "Long Hair In Three Stages", released by Skin Graft, produced by Jim O'Rourke, proving that noise can be more than just a racket. Fronted by al Johnson, the whirling white-trash dervish of the late hick noisenicks Shorty, U.S. Maple plays music that can sound utterly disorganized at times. But Johnson's wheezing cries and drunken whoops fit so tightly into the aggressive, disjointed machinations that theres no doubt this Chicago band possesses a keen if complicated sense of order. The group's complex, post Captain Beefheart rhythmic scheme upends standard grooves into a dizzying array of heaving stops and starts and polymetric irregularities, if there was ever a post punk Trout Mask Replica, U.S. Maple's debut is it. The bands components are connected like strands of DNA. Pat Samson's drumming forms an inextricable link to Todd Rittmans "low Guitar" - the band eschews bass guitar altogether - which in addition to putting some raw meat on the rhythmic bones forms nifty lockstep patterns with the "High Guitar" of Mark Shippy. While U.S. Maple isn't afraid to rock straight-up, the band rarely sticks with it very long, opting instead for endless jarring sideways excursions. The groups live show, in which frantic, reckless motion mirrors the sounds blaring from the stage, is fast becoming legendary".

- Peter Margasack
from the bands first Critics Choice / The Chicago Reader
---
... The band's recent tour with label mates Melt-Banana was not what they were expecting. The two bands were both taken aback by each other's habits. "They massage each other. They carry their guitars everywhere. When you're trying to brush your teeth, they're washing their socks," said Johnson. "They're like this... maniacal team. They keep track of everything; they have their own personal accounts, their own diaries. They're super, super careful. And we're walking around with a rubber band full of singles."

- on the band's first tour with Melt-Banana / The Daily Texan
---

BAND HISTORY:
text by Al Johnson and Mark Fischer
"You know what gets you, you know where…"
From the album LONG HAIR IN THREE STAGES on Skin Graft Records

ROCK AND ROLL… RE-APED?
Our beginnings strike here, in Chicago, Illinois sometime early 1995. The four of us meet near the corner of Grand and Western Avenues to discuss a way in which to erase Rock and Roll entirely from our collective minds. We then set out to devise a working method for reorganizing the Rock and Roll, keeping what we feel areits most important core elements. Shortly thereafter, Skin Graft signs the band.

HURRY UP, TENNESSEE!
Early 1995, we travel to Memphis, Tennessee to record our first single. The 7" features the two songs: "Stuck" and "When a Man says Ow!" Our first session was recorded and mixed by Doug Easley at Easley Recording Studios. Also recorded was a version of AC/DC's "Sin City".

ALIVE SHOWS
Initially, exporting a completely new form of Rock and Roll polarized audiences throughout America. To this day, audience reactions continue to be extreme ones. Our reaction is to present the songs as one piece, a single narrative structure that doesn't break. And although we try to be as faithful to the songs as we can, the very nature of the songs themselves encourages us to re-tell the story differently every time. Having a kind of elasticity with the music enables us to control the time and space for each show. Each performance, every song, every gesture differs from the night before.

"You guys are fucked man."
Chad Trompitz, Cleveland, Ohio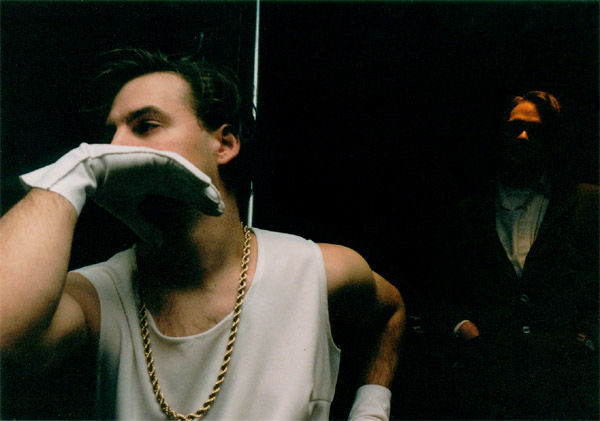 Our first full-length album, LONG HAIR IN THREE STAGES was recorded late 1995 with Jim O'Rourke at Solid Sound Studios in Hoffman Estates, Illinois. This was Jim's first legitimate recording session with a Rock and Roll band. Today, he is an esteemed and highly sought after producer for many bands. The recording was released on both CD and vinyl formats, with the vinyl containing a bonus track. As for the artwork, the band and Mark Fischer, CEO of Skin Graft Records traveled to his father's metal manufacturing shop in St. Louis, Missouri. According to Fisher's design, we would to turn raw material into album jackets. Large sheets of aluminum were sectioned, trimmed and cut to size by the five of us. The jackets were then punch-pressed and the edges dulled. The spine alone required three precise bends. Each jacket was then hand polished by everyone, leaving no two alike. More than fifty hours hard labor went into the making and design for the album jackets alone. Today, the vinyl version is a rare, collector's item fetching ridiculous prices. Approximately 1000 vinyl copies were made.

"Yeah, I'm through with 666."
From the album SANG PHAT EDITOR on Skin Graft Records

AND IMMEDIATELY TO NORWAY.
The album LONG HAIR IN THREE STAGES receives critical acclaim and soon thereafter, U.S. Maple find themselves flying Coach to Deutschland for a European tour. The extensive six-week tour spans 12 countries and includes a Peel Session for the BBC's John Peel Show.

DION
Yes, we've re-written the classic THE WANDERER and it's available as a CD SINGLE on Sonic Bubblegum Records. The Rock and Roll was recorded and mixed by Tom Zaluckyj at Albini's old place. Man, did he complain.

SANG PHAT EDITOR
On our second full-length effort, we continue unraveling. Song and structure reveal themselves only as bits and pieces. Here, musical subtleties intensify beneath an awkward space while derelict singing calls for the head of Rock and Roll. SANG PHAT EDITOR is an all out attack on Rock's conventions: honor, tempo emotion etc… It is an album that is both complicated and satisfying. But be warned, this is an entirely different record than LONG HAIR IN THREE STAGES. And though the intentions behind both records are the same, by comparison this release seems to be the estranged brother. Once again, both the album and the CD feature specialty packaging. Both formats come wrapped in day-glow camouflage and include a removable picture postcard of U.S.Maple dressed in guerrilla fatigues. Recorded in 1997 by Jim O'Rourke at Solid Sound Studios in Hoffman Estates, Illinois.

OUR SPLITS…
In the fall of 1998, after three years of recording, releasing and touring records for the Skin Graft label, U.S. Maple says good-bye to their long-time partner and friend. For us, the decision to leave was a difficult but necessary choice. We had arrived at a point at which we required more specific support from the record label. And naturally, the harder we worked and the more we toured, the more maintenance we required as a band, especially if we were going to continue on in a somewhat sane manner. The break was amicable and today we continue to be good friends.
M. F. SAYS...
And from there, the band recorded "Talker" for their new label, Drag City Records, a thirty-three minute story tying high school to the haunted house. Beautifully played songs inundated by the morose singing of a D+ student. TALKER is pandemonium mixed with guilt and silence. Musical subtleties connote a celebration, until then they're obliterated, rained on and beaten-up.
ow.
Following the album, U.S. Maple continued to tour, including a high profile jaunt with Pavement that yielded tomatoes and kisses. More spilts followed, Pat Samson would leave the band, and his slot was filled by Adam Vida.

All good bands come to an end and eventually the band called it a day.

FROM THE SKiN GRAFT NEWS DESK, APRIL 15th, 2013:
"Long Hair In Three Stages" is ranked #85 on the Alternative Press "90 Greatest Albums of the '90s" list, but c'mon, we all know better...

It's been a long time coming. US MAPLE "Long Hair In Three Stages" will be available again as a COMPACT DISC with all artwork printed using three classy metallic pantone inks - and on VINYL in three different variations: A standard issue VINYL LP and two METAL SLEEVED limited editions LP variants.

This is actually the first time "Long Hair In Three Stages" will be available with a standard "printed" LP jacket. The original pressing of 1000 copies from 1995 was packaged entirely in handmade individually polished aluminum sleeves in flat black jackets. The entire run sold out within the first month of its release, so now that another 210 months or so have passed and it's selling for tidy sums around the world, we can safely assume we won't be getting any returns from distributors - so the think-tank here at SKiN GRAFT has determined that we can safely go back to press.

For the reissue, it was important to offer an affordable LP since prices have been high for so long, but it also seemed like a great opportunity to revisit the sheet metal shop where the original sleeves were fabricated 18 years ago.

Collectors, no worries. These will be different and immediately discernable from the from the original run. All LPs will include the vinyl only bonus track "Found A Place To Have My Kittens" and include a standard "printed" jacket. The metal sleeved editions will also include a metallic pantone printed lyric card inside the jacket. Unlike the original run of sleeves which were crimped and folded on the right side, these will be crimped at the bottom. Each will be hand polished differently -- will have the band name embossed into the metal on the front and will have an individual control number embossed on the back.

No two will be alike.

We are also offering a variant with a die cut in the front that allows a hint of the printed jacket to show through.

The die cut and non-die cut sleeves will be numbered sequentially as individual editions (ie: there will be a #010 die cut and a #010 non die cut sleeve) and the edition number will be hand embossed onto the back metal flap.

The final qty of all editions in total made for sale will not exceed 666, so these will be less common than the originals.
---
U.S.
MAPLE
RELEASES
FROM
SKiN
GRAFT:

"Stuck"
GR#19 - deluxe 7"

"Long Hair In Three Stages"
GR#33 LP / CD

"Sang Phat Editor"
GR#44 LP / CD

"Sides 1-4"
GR#25 2 x 7" & comic
(exclusive track)