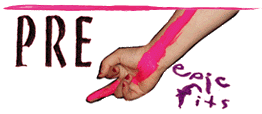 "Hope Freaks" LP/CD


Born in a basement, based in London, the first outing of PRE had the entire audience locked outside, watching through barred windows from above. To the assemblage up top, it was clear that these five noise sprinkled nu-wavers had already figured it out - sound moves quicker in high pressure.

In the months that followed, PRE's rhythmically infectious skip-alongs were demonstrated on a flurry of releases. The band's debut 7" EP "Treasure Trails" caught ears by surprise and wouldn't let go. A rash of vinyl came in quick succession, pairing the band up with acts like AIDS Wolf, Dmonstrations, Bardo Pond, and Comanechi.

On September 18th, weighing 14 songs and coming in just over 20 minutes tall, "Epic Fits", PRE's debut album was born. Recorded in a chilly pizza storage unit with Westminster Brown at the controls, PRE's full length is cold sweat caught on two inch tape. US Tours, a sold out CMJ showcase at the Knitting Factory and a two page spread in Spin followed.

Soon after "Epic Fits", a bootleg live 7" packaged with topless photos of PRE and labelmates AIDS Wolf originated out of Eastern Europe. Late in 2008, PRE released a cover of AC/DC's Dirty Deeds Done Dirt Cheap with the bands Yowie, Colossamite, and Mule titled SIDES 11-14.
Released on June 23rd, 2009, "Hope Freaks", recorded in Chicago with Steve Albini at Electrical Audio and mastered by Weasel Walter in San Francisco, is a power-vault up from the newborn gnarl of their debut 'Epic Fits'.

Like it's predecessor, "Hope Freaks" weighs in at a lean twenty minutes. Every punch is packed, and with a master at the faders, you will feel the devil in all its detail. Each unhinged swing never fails to connect.

Now; bare-knuckled, fist in hand with Skin Graft Records; PRE spring forward for round two - unprotected, unwavering - and with infectious left hooks guaranteed to leave listeners staggering.



PRE is:
exceedingly good keex - sing
j. art webb - guitar sing
kevin hendrix - bass sing
matthew p. warburton - bass
richard p. bennett - drum